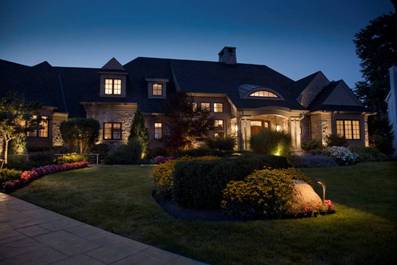 Brighten up Your Landscape with Outdoor Lighting
Now that you have the lawn, irrigation system, and landscape you've dreamed about, why not show it off? Rescue Lawn Care, LLC also installs Professional Outdoor Lighting.  We can provide you with light designs that not only illuminate and accentuate your landscaped yard, but provide safety from falls or injuries due to poorly lit area, or from intruders who will inevitably be deterred by the illumination on your property.
We can provide a free, no-obligation demonstration so that you may see how impressive your property will look at night with professional landscape lighting installed.  We think your house would look spectacular lit up at night and would love the opportunity to show you!
Call or email to schedule your light demonstration today.
We install new outdoor lighting design systems for your home or business. In addition, it will bring you:
Safety & Security—It will light the perimeter of your house and property to discourage potential intruders or vandals.
Beauty—It will elegantly accentuate the beauty of your landscape and home.
Increase the Value of Your Home—With a beautiful landscape, lighting designs increase the value of your home up to 25%.
New Lighting Designs
Rescue Lawn Care proudly features top brands of leading manufacturers' lights. We offer a full line of path lights, accent lights, spotlights, well lights, and deck lights to illuminate every lighting need. You also receive transformers, so that your entire lighting system is fully automatic. The transformer allows you to set a programmed time for the lights to turn on and off or you can choose to have them operate whenever it is dark outside.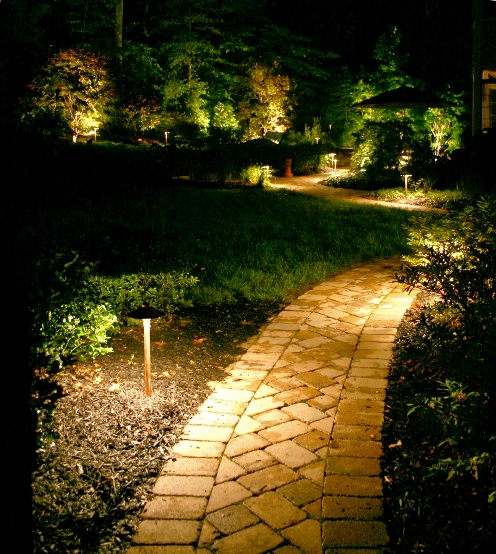 The Power of New Lighting
A custom-designed outdoor lighting system enriches the appearance of any property, and we work closely with you to create the ideal system for your home or business. Our experience with various installation techniques and our understanding of lighting capabilities help us to design and install the system that best suits your individual needs.
Light up your landscape by contacting us today at (919) 805-0138 or contact us!