Rescue Lawn Care installs high-quality, fresh-cut turf grass for our clients from only well known sod dealers. Since turf grass is a perishable product, it is never cut until the afternoon before it is delivered. It arrives at your home or job site strong and healthy, with a thick and sturdy root base.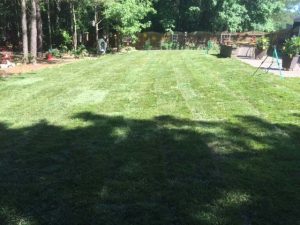 Pricing is based on the type of sod you select, the square footage of your lawn, and current market prices. Determining the square footage of your lawn is quite simple. Since most lawns are not perfectly square, we will determine the square footage using our measuring wheel. There are five major types of sod sold in the Triangle area that are most successfully cultivated in combination with the region's climate and environmental conditions.
Each type has unique characteristics and specific requirements that lend to a healthy, flourishing lawn. If the sod type is not properly selected for prevailing conditions (i.e., heavy sun or shade, etc.) failure is inevitable. Therefore, proper site evaluation by our qualified expert is crucial.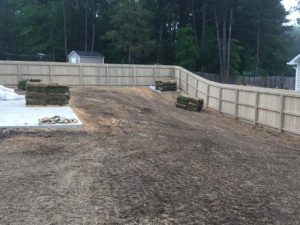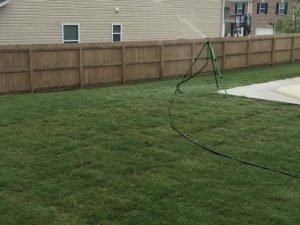 Bermuda
Bermuda is the most popular of sod grasses available. It is widely used because of its low maintenance requirements and its good tolerance to regional weather conditions. It is a rapidly spreading variety that becomes extremely dominant and discourages weeds if maintained properly. Bermuda takes root very quickly and grows well in clay conditions. It needs less water than other grasses, and its ability to withstand frequent traffic contributes to its desirability. Bermuda sod provides a green dense luster in the growing season and reverts to a light wheat color during its dormant period in the winter months. It is a favorite of golf courses, and again, if maintained properly gives a beautiful appearance.
RECOMMENDED SUNLIGHT: 10-12 hours per day
AVAILABILITY: Year-Round
PRO'S:
Least Expensive of the Five Sod Types
Low Overall Maintenance
Highest Tolerance to Sunlight
Good Tolerance to Traffic
Takes Root and Spreads Rapidly
Aggressive Growth
Grows Well in Clay
CON'S:
Loses Color During Winter Dormancy
Zoysia
Zoysia has been referred to as the Premier sod. When at its best, Zoysia looks nothing short of spectacular. It is a slow-growing, fine-textured, dense turf grass. Maintenance is similar to that of Bermuda sod; however, Zoysia requires less mowing during the growing season than the other types. It is generally resistant to weeds and can tolerate a high volume of traffic. When properly cared for, Zoysia's appearance is impeccable, but if not properly maintained, it can gain a semi-dormant look. The three types of Zoysia sod available are MEYERS, EMERALD, and EL-TORO.
RECOMMENDED SUNLIGHT: 5-6 hours per day
AVAILABILITY: Year-round
PRO'S
Dense, Fine Texture
Resistant to Weeds
High Drought Tolerance
High Shade Tolerance
High Traffic Tolerance
CON'S
More Expensive than Other Types
Slow to Establish
Can be Hard to Cut
Fescue
Fescue is the most common turf grass and is prevalent in North Carolina. It is a fast-growing turf that is green the full year around. Because of its continual luster and performance throughout every season, Fescue has become a popular choice of industrial and commercial customers. The varieties of Fescue have been continuously refined, producing better and better qualities. Fescue sod is generally grown with a blend of three or more varieties in order to increase appearance benefits and decrease vulnerability to disease. Today's varieties have become much more tolerant of sun, heat, watering conditions, and cutting methods. While Fescue is the most shade tolerant of all sod types, it can still become weakened or damaged with too much shade.
RECOMMENDED SUNLIGHT: 4-5 hours per day
AVAILABILITY: November thru May
PRO'S
Green Throughout the Year
Highest Level of Shade Tolerance
Fast Growing
Improved Tolerance to Weather Conditions
Can be established by Seeding (Although Time Consuming)
CON'S
High Maintenance
Requires Heavy Watering During Warm Season
Does Not Spread
Centipede
Centipede is a warm season grass. Its most favorable attribute is its low maintenance requirement. It requires less mowing than the other sod types, and is highly resistant to weeds. Although it has a strong growth habit, it is slow to replenish weak areas and is not as traffic tolerant as Bermuda. Centipede can tolerate a moderate amount of shade, but does its best in full sun. The color is normally paler than other sod types and requires a consistent watering schedule to achieve a lush green appearance. Like Bermuda, it goes into dormancy during the winter.
RECOMMENDED SUNLIGHT: 7-8 hours per day
AVAILABILITY: Year-round
PRO'S
Low Maintenance
Grows Well in Poor Soil
Requires Less Mowing
High Resistance to Weeds
CON'S
Builds a Heavy Thatch
Course Texture
Appearance Not as Lush as Other Grasses
St. Augustine
St. Augustine grass is a perennial robust grass widely used for pastures and lawns. In the warmer climates of the tropics and subtropics it rivals Bermuda grass in importance. St. Augustine grass is adapted to moist, coastal areas with mild winter temperatures. It is known to be tolerant of high summer temperatures. St. Augustine grass is used primarily for lawns as it does not tolerant traffic as well as some other warm season species. It produces satisfactory turf at moderate levels of maintenance, effectively competes with weeds and other grasses and has only a few serious pests. St. Augustine grass produces a thick, lush, dark green turf that is highly preferred by homeowners.
RECOMMENDED SUNLIGHT: 7-8 hours per day
AVAILABILITY: Year-round
PRO'S
Low Maintenance
Grows Well in Poor Soil
Requires Less Mowing
High Resistance to Weeds
CON'S
Slow growing
Builds a Heavy Thatch
Course Texture
Appearance Not as Lush as Other Grasses